The COVID-19 pandemic is a worldwide human tragedy that has caused unparalleled disruption to people's lives. Underestimating the impact that the pandemic is having on employees is dangerous for both organisational health and for the health and wellbeing of the people. Organisations need to safeguard their resources in order to brave this storm, which means that employee engagement and empowerment must be prioritised.
Gartner found that in 2019, 74% of organisations relied on annual employee surveys to determine employee sentiment.[1] However, once-a-year surveys are not effective. Take this year, for example – the employee sentiment in January vs. today is totally different. That's why the less frequent comprehensive engagement surveys should be complemented with more timely pulse surveys, to gauge sentiment "in the moment".
Staff engagement surveys are a reliable measure of staff satisfaction, and an effective way to assess how employees are faring day-to-day. According to SHRM, there are three common types of employee surveys:[2]
Employee opinion and satisfaction surveys to measure employee views, attitudes and perceptions of their organisation
Employee culture surveys to measure the point of view of employees, designed to assess whether it aligns with that of the organisation or its departments
Employee engagement surveys to measure employees' commitment, motivation, sense of purpose and passion for their work and organisation
Let's look at four reasons why surveying employees is beneficial right now.
1. Being attuned to health and wellbeing yields greater productivity
During times of uncertainty, understanding how your employees are coping is the key to success. Every employee has their own unique situation and remaining attuned to this is made more difficult since most workforces are geographically dispersed. In fact, according to one study, 41-60% of
Australians surveyed revealed a preference for working from home – perhaps two or three days a week. That figure increases to 100% for respondents over the age of 60.[3]
With the future likely looking remote (or, at least, a hybrid between at-home and in-office working), HR need to proactively survey staff members to uncover how they are feeling about their unique situation and their work.
To cite just one example of why surveys are so critical, MetLife Australia revealed how Australian workers' mental health has been impacted by the pandemic, and what their employers are doing to help. See the survey results below: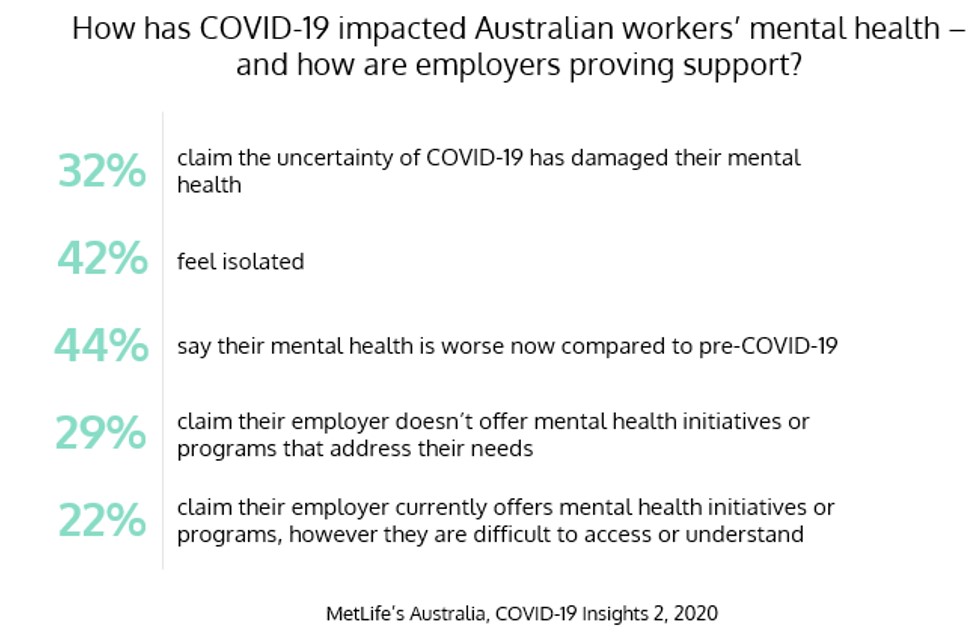 In New Zealand, over two-thirds (64%) of workers are suffering from burnout (a syndrome occurring from chronic workplace stress that has not been effectively managed) post-lockdown, according to a survey of 900 Kiwis by Frog Recruitment.[4]
Employee surveys can reveal emotions and anxieties that are standing in the way of productivity and engagement, and whether employers are doing enough to support those who are struggling. The results can be channelled into one-on-one chats with individuals, to obtain more personalised insights.
2. Employee feedback equates to greater business insights
In unprecedented times, business leaders should seek advice in as many places as they can to inform good decision-making, and who better to talk to than the employees on the frontline? These people are the ones who are interacting with customers day-to-day and can identify areas that need improving – both from a customer and an employee perspective.
Through employee surveys, employers can gain valuable feedback on the effectiveness of business processes. This can relate to HR processes, such as onboarding and learning, as well as external processes that impact customers directly. Surveys can also reveal the pulse of an organisation's culture and employees' perceptions and attitudes towards work.
Business leaders should not underestimate the value of these insights. This is a difficult time and people are vulnerable, so the more that an employer can understand about their employees' likes, dislikes and needs, the easier it is to put measures in place to enhance the employee experience, and with that, improve business outcomes.
3. Surveying employees is empowering
Everybody likes to feel that their ideas are being heard, and so giving employees a forum to voice feedback, concerns and suggestions will help to forge a trust-filled relationship between employer and employee. Engagement and pulse surveys are powerful tools for making employees feel empowered, and in turn, more loyal and committed to the organisation. What's more, two-way feedback is critical during times like this, as it can help to identify inefficiencies and issues within workplace practices, and lead to more fruitful business decisions.
4. Understanding employee engagement and experience is vital for returning to work
How an employer treats their employees during COVID-19 will define the organisation's employer brand way into the future and will have a lasting impact on engagement, commitment and productivity. Business leaders need to ask themselves: when the pandemic is over, what do I want my employees to say about the organisation they work for? That they felt supported and that the company was true to its values, or that the company was out of touch, inconsistent and unemphatic to people's unique circumstances?
Check out our parent company ELMO's whitepaper on the importance of employer branding during COVID-19.
Without measuring the employee experience during the pandemic, employers will miss out on important insights about their employees and will not be able to effectively strategise their organisation's "recovery" period. For instance, asking your employees to come back into the office full-time once a sense of "normality" is restored will be met with backlash if, in actual fact, most employees can work productively from home – and they haven't even been asked their opinion on the matter.
Emerging from this crisis stronger will not be possible without the support, commitment and motivation from the people that make it what it is.
To find out what the employee experience looks like during the pandemic, read ELMO's eBook on how to inspire a remote workforce.
Surveys that take the workload off overwhelmed HR teams
HR teams are typically overworked and under-resourced – especially in a small or medium-sized business where the HR team may be small, or consist of just one person. Without centralising your people management processes, and without self-service functionality, that sense of overwhelm is only going to get worse – to the point where tasks like undertaking regular surveys will be dropped into the "not enough time" bucket.
Indeed, HR professionals say that 41% of their time is spent on "transactional activities" such as updating employee records and responding to employee queries.[5] Technology can streamline and automate many of these tasks.
PeoplePulse's full-service, project-managed approach to employee survey design and delivery takes the workload off HR teams, so they can focus on doing what they do best. With PeoplePulse Employee Surveys, you are assigned a project manager and get access to best-practice survey templates, as well as our powerful reporting suite, so you can compare how your employees are tracking via comparative reports (e.g. year-on-year, and/or by department/function). You also have the option of engaging our Insights Reporting team who can prepare custom report decks for you and your leadership teams, freeing you up to focus on creating strategies to try and resolve any problems identified, as well as to capitalise on and nurture on any opportunities that have presented themselves.
The option of using PeoplePulse's sophisticated anonymity features means employees can freely share their thoughts on sensitive areas like diversity or workplace culture, which helps you to get a better sense of what your employees' perceptions, attitudes and feelings are towards their own work and the workplace itself. You can then use those insights to make changes that improve the employee experience and enhance your workplace.
The questions that employers should ask their employees
According to Gartner, there are 9 meaningful questions employers should ask their employees in every engagement survey that can improve employee performance:[1]
Do you understand the strategic goals of the broader organisation?
Do you know what you should do to help the company meet its goals and objectives?
Can you see a clear link between your work and the company's goals and objectives?
Are you proud to be a member of your team?
Does your team inspire you to do your best work?
Does your team help you to complete your work?
Do you have the appropriate amount of information to make correct decisions about your work?
Do you have a good understanding of informal structures and processes at the organisation?
When something unexpected comes up in your work, do you usually know who to ask for help?
In addition to the suggestions above, or other custom questions you might want to ask, at PeoplePulse we provide our clients with best-pratice Employee Engagement Survey question templates, categorised into meaningful themes, so you can trend your year-on-year reporting at a granular level (question-by-question) or by high-level themes.
In today's disrupted workplace, HR matters more than ever. Employee survey feedback is invaluable, and so is consistent communication, conducted through easy-to-use channels. Thanks to technology, employers now have the tools to collate, analyse and provide reports on employee sentiment. With this information, employers can build a stronger and more productive workforce that can tackle any challenges that come its way.
See PeoplePulse in action …
Request a free demonstration to see how PeoplePulse helps organisations by designing, implementing and reporting on custom employee feedback solutions:
---
Our parent company ELMO Cloud HR & Payroll can help HR professionals manage their workforce, even while operating remotely. As a cloud-based solution, ELMO helps employers manage their teams from anywhere at any time from a secure, centralised location. All employee-employer touchpoints are covered by ELMO's suite, from 'hire to retire'. This includes recruitment, onboarding, performance management, payroll, rostering / time & attendance, learning & development, and more. To find out more, contact ELMO.
Sources:
[1] "Are employees burnt out from COVID-19?", HRD, June 2020 [2] "The new disrupted world of work: Seven practices for high-impact HR", Josh Bersin, 2017 [3] "Most workers want 'hybrid' jobs at the office and at home after coronavirus, study finds", ABC, June 2020 [4] "9 Questions that should be in every employee engagement survey", Gartner, 2018 [5] Managing employee surveys, Society for Human Resource Management