Great software alone is important. But quite frankly, it's not enough.
So our difference is simple –
At PeoplePulse we combine the very best in mobile optimised online survey software and reporting with your own dedicated Project & Account Manager.
This combination of exceptional software and unmatched support & advice works to ensure that your survey is set up professionally without fuss, and that ultimately your survey delivers you the insight you need to make better business decisions.
* Not to mention that to date we've helped more than 1,000 other organisations implement first class survey solutions.
In short, our customers don't just want great software. They want great solutions. Solutions that will address their key business challenges and shine a very clear light on where their focus needs to be in order to receive the best return for effort.
At PeoplePulse, we hold your hand throughout the entire feedback process and aren't satisfied until you have the insight you need to make better quality decisions. That's our commitment to you.
We look forward to the opportunity to assist you.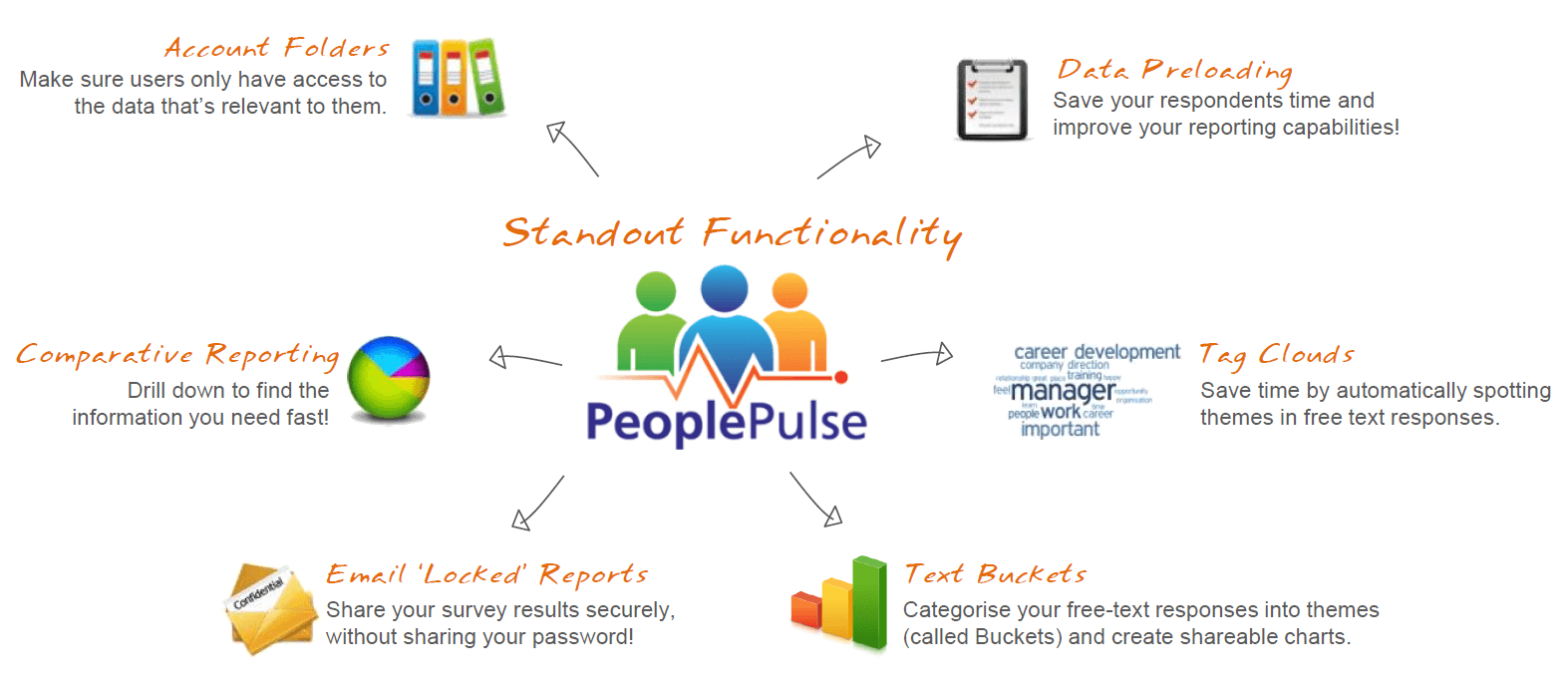 The right software is just the start.
Choosing a suitable supplier is far more than just a matter of selecting the right software.
If you are purchasing software via your credit card online, chances are that you've selected a 'self service' tool. Even if you select a great tool, you have to ask yourself if you're fully prepared (and skilled) to run a professional survey process in-house.
You also need to consider project costs – and compare apples with apples.  No point 'saving' on a self service tool that ultimately requires you to spend hour upon hour to program surveys, test question flow, figure out design layouts, and research invite and reminder best practices.  In order to compare apples with apples you need to take all tasks required to run a successful survey project into consideration.
Use the table below to help you decide if 'going it alone' is the best option for you:
PeoplePulse

Full Service - PeoplePulse

Access to full featured survey software

Project management consultancy (to help with defining survey objectives, success factors, etc).
A dedicated Project Manager assigned to your account to guide client through every step of the project management process, from survey content to reporting.
Advice on most appropriate contact methods to reach all survey participants: Email, mobile/SMS, paper surveys. A client driven survey send out approach, or PeoplePulse Project Manager survey send out.
A customised communication plan including pre-survey communication, email invitations, reminders emails, newsletters content, etc.
Customised email and survey design templates matching organisation branding.
Survey programming and build done for you - ready for client stakeholder review and final changes.
Testing of survey and email invites for final check and firewall issues.
Set up of invite / reminders in PeoplePulse – survey launch.
Monitor survey response rates and provide optimisation advice.
Customised report training to ensure you can get fast access to the information you need.
Ongoing local phone and email support, and option for face to face training.
Regular account and survey health checks - reviewing survey response rates, survey content, reporting, etc, for best practice optimisation.

Self Service - Other tools

  Access to full featured survey software
   N/A  

Project management consultancy (to help with defining survey objectives, success factors, etc).

   N/A

A dedicated Project Manager assigned to your account to guide client through every step of the project management process, from survey content to reporting.

   N/A

Advice on most appropriate contact methods to reach all survey participants: Email, mobile/SMS, paper surveys. A client driven survey send out approach, or PeoplePulse Project Manager survey send out.

   N/A

A customised communication plan including pre-survey communication, email invitations, reminders emails, newsletters content, etc.

   N/A

Customised email and survey design templates matching organisation branding.

   N/A

Survey programming and build done for you - ready for client stakeholder review

   N/A

Testing of survey and email invites for final check and firewall issues.

   N/A

Set up of invite / reminders in PeoplePulse – survey launch.

   N/A

Monitor survey response rates and provide optimisation advice.

   N/A

Customised report training to ensure you can get fast access to the information you need.

   N/A

Ongoing local phone and email support, and option for face to face training.

   N/A

Regular account and survey health checks - reviewing survey response rates, survey content, reporting, etc, for best practice optimisation