The impact of COVID-19 on economies, communities, governments and individuals around the world has forced many businesses to operate entirely remotely. This is a daunting prospect for businesses that are not well-equipped to do so or have not trialled it previously.
Although the circumstances in which forced work-from-home has evolved are troubling and concerning, employers should look at the upside. Having the opportunity to effectively adapt for the future workplace – one which is centred around remote working – will put them in a better position later down the line.
The demand for remote and flexible working opportunities has grown immensely in recent years. Before the pandemic became a reality, a survey[1] found that 68% of Australian employers already allow employees to work remotely. In New Zealand, it was a similar percentage – and growing. At the time of writing, a study claimed that between 74,000 and 83,000 additional jobs offering remote and flexible working were expected to be created in New Zealand by 2030, which would add between $16.2 billion and $18.1 billion in economic output[2].
The drivers of this increase are a complex blend of the technological, social and practical. For example, cloud-based software enables people to work from any location so long as they have internet connectivity. In addition, longer commute times have forced employees to reconsider the traditional notion of working 9-5, Monday to Friday. Family commitments such as looking after young children or elderly parents are also driving this uptake.
Employers are starting to appreciate that remote working is no longer viewed by employees as a "perk" but instead an expectation – and they will miss out on talent if they don't offer it.
Fortunately, the survey showed that before COVID-19 there was an increasing willingness from employers to step up to the plate to ensure they are remote-ready. While 9 out of 10 (92%) employers say their company has invested in technology such as video conferencing, Slack, laptops and smartphones to enable remote work, only 17% of employers say investing in technology was a primary deterrent from adopting a remote work policy.
It seems the benefits are being more clearly understood. Employers rate the following as remote working benefits: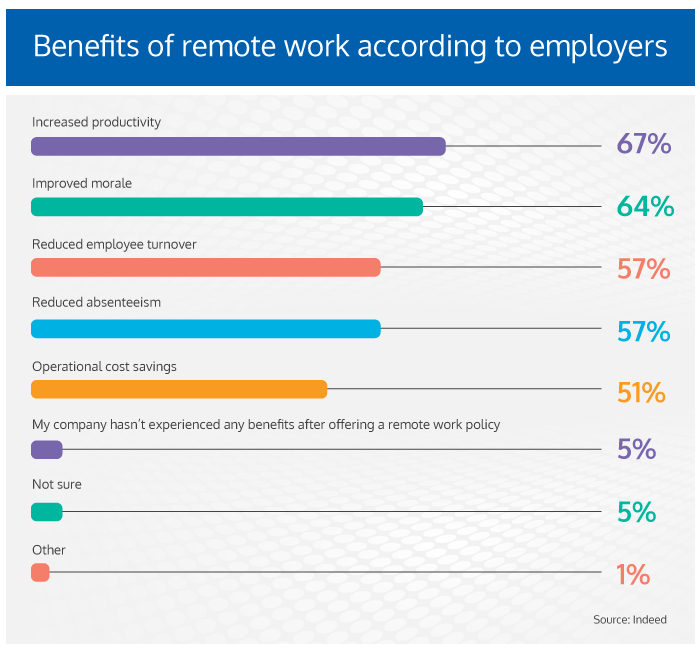 Meanwhile, 49% of employees believe remote working makes them more productive. They also appreciate the better work-life balance (80%) and reduced stress (58%) that comes from remote work.
Among the challenges of implementing a remote work policy were deciding which role types are most suitable, the circumstances in which remote work is most appropriate, and how often it occurs (e.g. once a week, twice a week, or more).
Peter Wolfe, SVP of Human Resources at Indeed, suggested that in addition to careful hiring and ensuring everyone feels involved, the key to overcoming challenges was smart use of technology. "Use technology, such as video conferencing, group chat rooms and document sharing platforms, to keep remote workers looped in," he said. "One of the most important aspects to successfully offering remote work is having the right technology, and most agree, as 91% of employers say that their company has invested in technology to enable remote work. Fortunately, 82% of employees surveyed feel they have the necessary technology to be effective in working remotely."
The uptake of flexible work has major repercussions for how employers manage employees. Areas like performance management and learning & development all need to be reassessed in a flexible work environment. Fortunately, cloud technology has transformed how information and HR services are delivered. Training Evaluation Surveys are a vital step for HR departments to ensure that the learning they design is valued and relevant. When it comes to delivering learning & development, employees can access eLearning delivered through a Learning Management System (LMS) from wherever they are based, at times that suit them. There's no need for expensive network infrastructures and also a reduced need to fly trainers to different locations to deliver training.
While the definition of remote work continues to evolve – it currently includes everything from weekend work to shift work, flexitime, home-based work, teleworking and compressed working weeks – it's increasingly apparent that its time has come and that it will play an increasing role in employee engagement. It's worth noting that just over a quarter (26%) of employees say that if their organisation were to eliminate an existing work-from-home policy, they would consider looking for a new job.
COVID-19 has put employers and employees in a unique situation regarding remote working; for many it is no longer an option but is mandatory. The result of this forced remote-first experiment may change the way we work forever, where "home office" is the new norm. Employers should use this time to learn how to effectively manage remote employees without compromising productivity and business performance.
---
See PeoplePulse in action …
Request a free demonstration to see how PeoplePulse helps organisations by designing, implementing and reporting on custom employee feedback solutions:
---
To see the potential time, resource and financial savings possible with PeoplePulse and our parent company ELMO's cloud HR & payroll solutions, try our ROI calculators: https://elmosoftware.com.au/resources/templates-calculators/
[1] The survey was conducted by Censuswide on behalf of Indeed between October 26, 2018 and November 1, 2018 [2] "Flexible Working Arrangements", white paper by 4DayWeekb