A Complete Guide to
Staff Pulse Surveys
In this resource guide:
What is a Staff Pulse Survey?
Why Staff Pulse Surveys should be Utilised
How to Make the Most of Your Staff Pulse Survey 
How are Pulse Surveys Different from Engagement Surveys
Advantages and Disadvantages of Using Staff Pulse Surveys
7 Steps to a Successful Staff Pulse Survey
Example Pulse Survey Questions
Key Statistics and Favourable Quotes
---
What is a Staff Pulse Survey?
A staff pulse survey is a short, quick survey that is sent out to employees on a regular basis (monthly, quarterly, etc.). This survey is essentially a check-in, providing a pulse check on topics such as employee satisfaction, job role, communication, relationships, and work environment.
These surveys are typically only 5-15 questions, therefore, they are not time consuming and are very easy to answer. They are useful because the feedback your employees give can help you decide which areas need improvement, and form the basis of a regular measure of changes in engagement and satisfaction levels within your organisation.

Why Staff Pulse Surveys should be Utilised
As stated in his article "Why HR Needs To Invest In Employee Pulse Surveys", Jacob Shriar asks:
"Do you check your bank account once a year? Of course not, that would be crazy. So then why do we only check on our employees once a year?"
While most organisations invest in the employee engagement survey, checking in on your employees only once every year or two is simply is not enough. Too much time goes by without enough opportunities to address critical issues or concerns that your employees may have.
With staff pulse surveys, you can regularly check in with your staff and address any issues or concerns before it's too late. Because of its simple format, these surveys can be done quickly and efficiently provide invaluable feedback for management.


How to Make the Most of Your Staff Pulse Survey
In her article "Why Data-Driven Employee Experience Should Include a Continuous Listening Strategy", Laura Stevens explains how many organisations are migrating away from annual engagement surveys, and increasingly moving towards pulse checks, or frequent employee surveying.
Upon this observation, she has also noticed that many organisations are not utilising these methods to their fullest extent. Many companies are spending much of their time gathering this data from their employees, and not really knowing what to do with it. They are missing the point of the survey: gathering insights to help them answer and achieve critical objectives.
With this in mind, she includes some tips that are meant to help companies make the most of their continuous listening investments:
Clearly define the purpose of your efforts

Because these "check-ins" can go in many different directions depending on what you want to focus on, it is crucial that you make the purpose of your efforts clear.

Create the right pulse questions

While it may be tempting to simply buy a pulse questionnaire at times, you must thoughtfully craft questions that are on track with what you are trying to measure. You want the data collected to be meaningful, not useless.

Determine the appropriate length of your survey

The appropriate amount of questions that should be in your survey depends on what your objectives are and what your desired outcome is.

Figure out the appropriate survey cadence

There are a few different factors to consider here. First, think about how often the components you are measuring are going to change. For example, satisfaction may tend to fluctuate more than engagement. Second, take into consideration that regular staff surveying is only effective when the data you receive is analysed and acted on. Be sure to have a plan on how to address these issues and opportunities as they come.

Be certain you can apply advanced people analytics to your pulse data

Being able to uncover trends or reveal the impact of specific events on the employee experience is a benefit of frequent staff surveying, however, with that comes the need for more advanced analysis. Many organisations turn to third-party tools, which do not allow them to use their own data. Invest in a solution that supports off-the-shelf integration with various analytical packages, or find a strategic partnership that has the capability to use advanced people analytics and can help you gain the insights you need.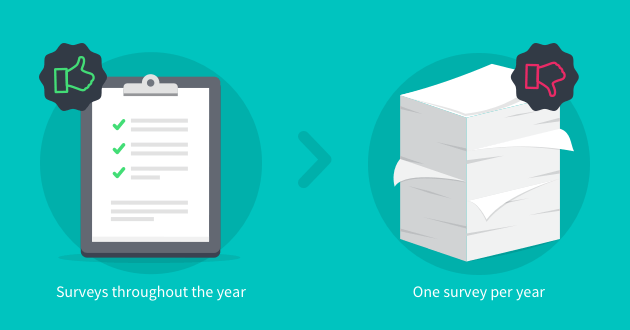 How are Pulse Surveys Different from Engagement Surveys?
Pulse surveys are:
Conducted on a more regular basis: monthly, quarterly, etc. This helps gain quicker, more relevant feedback.
Much shorter. They are typically only 5-15 questions, therefore, they aren't very time consuming to complete.
Useful for focusing on a targeted set of questions relating to current objectives.
Great for evaluating reactions to change that has been implemented in an organisation.
Provide a regular measure and trend line all throughout the year of changes in engagement and satisfaction levels – providing a level of transparency that an annual engagement survey won't deliver.

Advantages and Disadvantages of Using Staff Pulse Surveys
Advantages
Increased employee engagement. By asking your staff regularly for their feedback, you are encouraging positive engagement which also provides huge organisational benefits such as:

Employee satisfaction: as employees become more engaged with their organisation, their job satisfaction levels rise and they become more invested in the success of their organisation.
Productivity: employees that are more engaged are found to be the top performers in an organisation. With higher motivation, they are driven to succeed.
Retention: employees are far more likely to stay with an organisation when they are engaged and satisfied with their current job.
Profitability: when employees are more engaged, they tend to have higher profitability rates as they are more productive and motivated to be successful.
More relevant feedback. Because Staff Pulse Surveys are sent out regularly, you are getting a better look at how things are currently going in an organisation rather than waiting each year to gain insights.
Can help boost A happier, positive culture is created in an organisation that is focused on listening to their workforce and actively working to boost engagement.
Gain meaningful insights. Based on responses from regular pulse surveys you can get a better understanding of what motivates your employees throughout the year.
Serves as a reminder that management values staff input. By sending out these surveys frequently, you are letting your staff know that you place importance on what they have to say.
Quick completion time. Because they are short and simple, these surveys are not time consuming and allow for employees to give their honest input in a timely matter.
Higher response rates. Since these surveys are meant to be quick and easy to complete, organisations see higher response rates on staff pulse surveys than less frequent alternatives.
Promotes open communication. Being able to express your thoughts, concerns, and motivations is important in an organisation. By showing your employees that you care to listen, they will feel more comfortable giving their honest feedback.
Companies with highly engaged work forces outperform their peers by 147% in earnings per share.
Click To Tweet
Disadvantages
If they are sent out too often, they can lose effectiveness. Be sure to send these out at appropriate times. If employees are asked to take the survey an unnecessary amount of times, they will begin to put less effort into them. A weekly pulse, for example, can quickly lead to survey fatigue.
Can be discouraging. Because employees are putting in the effort to give their honest feedback, proper action must be taken after evaluating the feedback. If you do not do anything in response to what they say, they will be discouraged to providing feedback in the future. Hence you need to assess if you have appropriate resources in-house to communicate and act on the outcomes of weekly feedback (which is the expectation you are setting).

7 Steps to a Successful Staff Pulse Survey
Choose questions you want to ask: select 5-15 questions that you would like your employees to answer that will add value and insight to your business. These questions can cover a variety of topics, such as motivations, happiness, feelings about management, recognition, workload, job role, etc.
Announce the survey to your company: make sure to let your employees know about the survey before it is sent out, what will happen to their feedback, whether it is anonymous, and be sure to reinforce that their feedback is valuable.
Start the survey: send the survey to employees but make sure it is a convenient time for it to be sent out. Also, consider how often you want the survey to go out, and in what format is the best to distribute it. For example, mobile optimised surveys triggered by SMS are increasingly common.
Analyse the responses: upon completion, review the responses that you received. Look for areas that need improvement, as well as reflect on the positive areas. Analyse trend data, showing how results in each key area is changing over time.
Share the results: sharing the high level results with your employees is important to reinforce that they have been heard, and help ensure continued positive response rates.
Take action: this is the most important step! Your employees are taking the time to provide you with feedback. It is important that you listen to their feedback and take action as necessary. Develop an action plan that includes key dates and the person responsible for delivering each item.
Review and repeat: repeat pulse surveys regularly. Continue to review responses and see if progress is being made with the changes you implemented.

Key Statistics and Favourable Quotes
90% of organisations roll out traditional large-scale engagement surveys but only 19% use informal pulse surveys throughout the year. (CEB Corporate Leadership Council)
More than half of these organisations believe that pulse surveys should be used, however, they should not replace the traditional annual survey.
Of the organisations that use staff pulse survey methods, a third of them send the surveys every six months and a quarter send them every three months.
87% of employees worldwide are not engaged at work, and companies with highly engaged work forces outperform their peers by 147% in earnings per share. (Analytics and Tools to Transform Your Workplace, Gallup)
"Employee engagement has become the top issue on the minds of business leaders, directing us to an entirely new model of management." (7 Fascinating Employee Engagement Trends for 2016, 15 Five)
87% of employees worldwide are not engaged at work.
Click To Tweet

Get Your Free Demo
Try a free demo of our online Pulse Survey and Reporting software today!